Artfully crafted in the heart of the Pacific Northwest, Portland, Oregon, Wyld has quickly become the leading cannabis edible brand that caters to all cannabis tastes from the connoisseur to the colt. This brand presents consumers with an enriching experience that encapsulates all the wonders, mysteries, and awes the Pacific Northwest has to offer. From the subtle aroma of the rain-laden pine trees to the hair-raising ride of white water rafting, Wyld works to infuse the richness of their home right into their edibles. They offer a wide array of products from indica, hybrid, and sativa gummies to CBD gummies and sparkling water. Wyld's products have become the perfect companion for a hike or a cap to wind you down after an adventure-filled day. Here at Canna Culture we proudly serve and deliver the leading edible in the cannabis industry as well as many other products for all types of consumers. If you are interested in seeing what all the buzz is about, please visit our menu or contact us at (408) 264-7877.
The Wyld Way
With an emphasis on giving customers the best product possible, Wyld has charged ahead of the competition with two simple, yet fundamental, factors that make them the go-to choice for cannabis enthusiasts: their ingredients and their mission.
Made By Nature, Assembled by Wyld
The flavor of their edibles ranges from blackberry to peach to raspberry to strawberry to many more naturally assorted flavors. Now, most of the edibles on the market have similar flavor profiles. However, the main difference between Wyld and their competitors is that Wyld utilizes real fruit in every box of their edibles. No artificial flavors or chemical compounds that trick the brain, but real, genuine fruit is used in every one of their products. This is vital because it helps customers build a sense of trust in Wyld's products. They know every time they pick up a box of Wyld Raspberry Gummies those hints of raspberries come from actual fruit. Or, when you buy a 4-pack of their Blood Orange Sparkling Water, you know you are getting real fruit-infused sparkling water. By using natural ingredients and fruit in their products, Wyld is one of the few companies in the edible cannabis industry that has garnered such a level of trust from their loyal fan base.
Give Back to the Land That Raised Us
Because they promote natural elements in their products, Wyld recognizes that they must also give back to that same land to ensure a stable supply of ingredients for their products and the community around them. That's why they have been long-time partners with a local environmental organization called Friends of Trees (FOT). FOT's mission is to bring more trees into urban, populated areas. Founded in 1989, FOT has brought more than 750,000 trees to 120 neighborhoods. 
By giving customers the freshest ingredients possible while also serving the community and land for sustainable good, we here at Canna Culture proudly offer Wyld products. If you want to see what we have in stock, go ahead and visit our menu or come visit us! We're located in south San Jose!
Overview of Products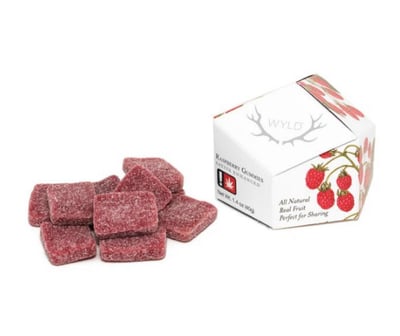 Wyld's products range from THC gummies to THC/CBD gummies to CBD sparkling water. This array of products is perfect for the recreational customer to the medicinal one. Choosing edible cannabis over smoking comes with a list of benefits that may suit many consumers. For starters, as opposed to smoking cannabis, when it is ingested you can experience a longer duration of benefits.[1] That's because, when smoked, the cannabinoids venture almost straight into your bloodstream but when you eat them they experience a longer intake process through digestion. This prolongs the effects of the cannabinoids on the body and works to extend the alleviation of pain, discomfort, anxiety, and many more conditions. Another benefit of edible cannabis is the exact dosing this mode offers. Wyld's gummies contain at most 10mg of THC which can easily be divided into smaller doses if needed. This allows the consumer to have full control over how much or how little THC they wish to consume at any given time. 
THC Products
For many people who have only partaken in smoking cannabis, the idea of ingesting it may be a little novel. That's why Wyld suggests that if you do have little experience with edible cannabis to then start slow if you choose one of their products that contains THC. For first-time consumers, it is recommended to begin with 2.5-5mg of THC. This will help ensure an even high that is a good baseline for where your tolerance is. Their wide array of THC products start with:
Sativa Gummies
Known as the "energized high", sativa is a great substitute or addition to your morning coffee. Cannabis sativa offers a wakeful high that promotes better focus, alertness, and cognitive processes. Studies have also shown evidence that this is great right before a long, euphoric hike, or a day of white water rafting. Wyld offers a Raspberry Infused Sativa Gummy or a Blood Orange Sativa Enhanced White Chocolate.
Hybrid Gummies
The intermediary between sativa and indica is Wyld's extensive lineup of hybrid gummies. These range from a fused mixture of sativa and indica strains in their Huckleberry gummy to their Pomegranate 1:1 CBD:THC. Their hybrid gummies include CBD dominant options in the Strawberry 20:1 CBD:THC. In addition to these, Wyld offers gummies that contain the lesser-known cannabinoids CBG and CBN. These cannabinoids are found usually at lower levels in almost every strain of cannabis, but through intentional crossbreeding, Wyld has been able to heighten their presence in their gummies. CBG and CBN have shown in some studies to act as a strong anti-inflammatory which is beneficial for pain relief and – in some studies – treat symptoms of depression. Their hybrid collection of gummies include:
Huckleberry Hybrid Enhanced Gummy
Pomegranate: 1:1 CBD:THC Gummy
Peach 2:1 CBD:THC Gummy
Pear THC:CBG Gummy
Elderberry THC:CBN Gummy
Strawberry 20:1 CBD:THC Gummy
Strawberry Hybrid Enhanced White Chocolate
Indica Gummies
Wyld's indica selection is perfect for when you can prop your feet up and unwind from the day. The euphoric body-high is great at massaging any inflamed pain or discomfort away as well as a great sleep aid for the restless mind. Wyld's exclusive indica products include a Peach White Chocolate as well as a Marionberry Gummy.
CBD Products
Some customers only want to feel the soothing relaxation brought on by CBD and want to avoid THC altogether. Wyld has just the perfect CBD gummies and sparkling water that is void of any euphoria-inducing THC. 
CBD Gummies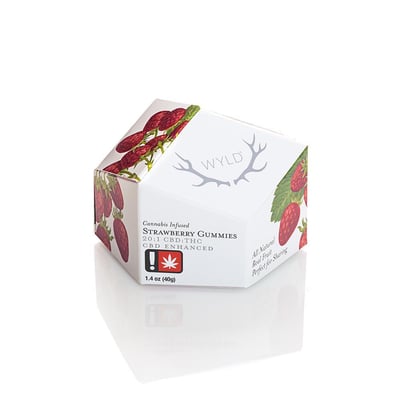 Advertised as being "perfect for taking a break from life's adventures" these little gummies really do serve as a "chill-pill" for even the most energized customers. CBD, the main cannabinoid in the molecular structure of the cannabis plant, has been shown to be incredible at quelling anxiety, nausea, and inflammatory pain, and discomforts.[2] These gummies do just that. Packed with 500mg of CBD these gummies work overtime to bring you the relaxation you've earned and – frankly – deserved. Their flavors for CBD gummies include:
Blackberry
Raspberry
Huckleberry
Lemon
Elderberry
CBD Sparkling Water
But their CBD concoctions don't stop there! Wyld also has a state-of-the-art CBD sparkling water that is a great, refreshing addition to any summer picnic or late-night stargazing party. Their flavors include:
Raspberry
Blackberry
Blood Orange
Lemon
Get the VIP Treatment in San Jose
At Canna Culture we are proud to offer and deliver our wonderful clientele a variety of Wyld products. Similar to Wyld's mission, we strive to provide genuine products that we believe in as well as give back to our community. Our mission is encompassed by the three C's:
Compassion
Commitment
Community
Through these, we have been able to thrive in the San Jose community since our inception in 2011. Since then, we have been able to supply and deliver our neighbors the finest products in the cannabis industry.
If you already come to Canna Culture regularly but aren't a VIP member today's the day to sign up! You can get:
2% back for every dollar spent before tax
Bring friends and family and a get a pre-roll for less than $2
Be the first to get notified about our demo days with BOGOs
References
Barrus, D. G., Capogrossi, K. L., Cates, S. C., Gourdet, C. K., Peiper, N. C., Novak, S. P., Lefever, T. W., & Wiley, J. L. (2016). Tasty THC: Promises and Challenges of Cannabis Edibles. Methods report (RTI Press), 2016, 10.3768/rtipress.2016.op.0035.1611. https://doi.org/10.3768/rtipress.2016.op.0035.1611
Andre, C. M., Hausman, J. F., & Guerriero, G. (2016). Cannabis sativa: The Plant of the Thousand and One Molecules. Frontiers in plant science, 7, 19. https://doi.org/10.3389/fpls.2016.00019