Weed Delivery in San Jose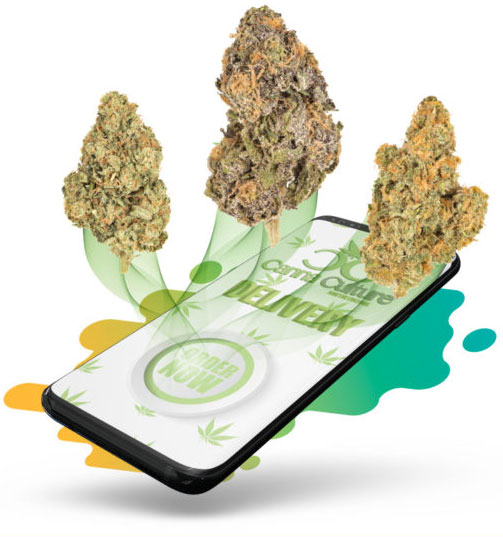 Weed delivery in San Jose is how you obtain high-quality weed products without leaving the comfort of your own home. Had a long day and just want to enjoy some time off? No problem. Leave the delivery to us and you can relax at home or continue your workday. We streamline the weed delivery process to help our customers avoid travel stress and maximize their time. If you're ready to make a weed delivery order, you can start browsing our current menu and place an online order. You can give our San Jose location a call at (408) 264-7877. You can also contact us online if you have less immediate questions.
Delivery Hours
9 AM – 9 PM
Please keep in mind what these hours entail. If someone places an order at 8:45 PM, we will not be able to deliver their products to them that night. Also, keep in mind the increased Santa Clara County traffic between 3 PM and 7 PM. Heavy traffic can impact how quickly we can get our deliveries out to our clients.
We accept credit/debit and cash for deliveries. For our safety and yours, our drivers carry only minimum change. Please have close to the exact amount available.
Free Delivery in San Jose and Santa Clara County
If you live in San Jose, you can take advantage of our concierge delivery service. Unlike many other services, we offer same-day delivery you can rely on. We understand our customers lead busy lives. Work, school, family commitments, home improvements, and other side projects can quickly become more time consuming than we might estimate. With reliable weed delivery services, you can avoid adding another errand to your already hectic schedule and reorient your day towards what you want or have to do. We can deliver to residences or outside your workplace. Be prepared to show your valid I.D. card or driver's license.
Remember to use only legal weed delivery services – black market businesses can get you, the customer, into legal trouble. You also have no recourse if you end up with a vacuum-sealed bag of oregano instead of the high-quality cannabis strains we keep in our inventory.
Benefits of Same Day Delivery
Reliable same-day delivery – we have the resources to provide our customers with same-day delivery.*
Save time – your time is valuable. Focus your precious time on projects you want to engage in.
Less stress – don't navigate busy freeways and city streets that increase your stress. Relax at home.
No waiting in line – minimize the frustration of waiting in line and devote your time to something more enjoyable and productive.
Promising treatment – for anxiety, psychological and social stress, physical pain (chronic and acute), irritable bowel syndrome, cancer, and more.[1][2][3]
*Please note that same-day delivery depends on the time the order was placed. If an order is placed late in the day we can't guarantee same-day delivery in all possible circumstances. Please note our delivery hours and contact us as early in the day as possible to reserve your delivery slot.
Delivery Area
We offer free delivery within a 20-mile radius. Our delivery area includes Mountain View and Milpitas to the north, Saratoga and Los Gatos to the west, and Morgan Hill and San Martin to the south. We cover most of Silicon Valley and Santa Clara County. Our delivery minimums are based on proximity to our dispensary. View the map below to see what your delivery minimum will be. Also, take into account your proximity to our dispensary and time of day for how fast we can deliver. You know how bad traffic can be during rush hour. We strive to get you your weed as fast as possible but please be patient during heavy traffic hours.
To place an order, you can start browsing from our up-to-date menu. You may also call our San Jose dispensary at (408) 264-7877.
Flower
We maintain a wide selection of flower options. We carry the highest quality strains from the most popular local growers and also have affordable prices on bulk flower purchases. For those seeking something even stronger, we have moonrocks available for connoisseurs of potency. We also carry specially grown CBD strains for those that want high CBD, minimal THC strains.
Browse Menu
Cartridge
Vaping remains one of the easiest ways to partake in weed consumption, whether you are micro-dosing on the go or relaxing on the weekend with the latest streaming sensation. We also carry an array of cartridges that can satisfy all vapers. We have high CBD cartridges for those looking for therapeutic relaxation and high THC cartridges for those looking to alleviate pain or just enjoy a weekend snooze.
Browse Menu
Edible
Edibles have come a long way from trying to make homemade brownies in the kitchen. Today, our impressive selection of edibles can satisfy any appetite. We have chocolate bars if you want to savor a tasty treat and sensi chews if you just want a quick mouthful of canna-chocolate. We have great tasting cookies that you can share or gummies and lollipops that make a great gift. We also carry popular new weed infusions that include cannabis-infused carbonated beverages for quick onset of effects and cannabis-infused, non-alcoholic wine to elegantly elevate your mindstate.
Browse Menu
Extract
Extract customers have a variety of preferred products. To satisfy this section of our clientele, we keep a wide range of extract products in stock. We have live resin and hash, resin diamonds and budder, shatter and sauce, sugar and temple balls. Whatever your preferred extract, we have delivery options available for you.
Browse Menu
Tincture
Tinctures have been growing increasingly popular. They are one of the easiest means of partaking. You just have to drip a few drops underneath your tongue and you are good to go. Tinctures are ideal for microdosing during a busy day. We have a number of different tinctures available, from very high CBD to THC ratio tinctures to pure Indica and Sativa tinctures.
Browse Menu
Topical
Topical weed products include salves for the relief of pain to lip balms to protect your lips against cracking and peeling. We also carry new topical products such as transdermal CBD gels and cannabis-infused lubricants. Many of our clients like to mix in some topicals with other weed products for their discreet delivery.
Browse Menu
Prerolls
Another popular add-on to delivery orders is our prerolls. We keep high-quality pre-rolls in stock that make a great complement to social gatherings or just walking along the beach with your significant other.
Browse Menu
Curbside Pickup
Another option we offer to best serve our clientele is curbside pickup. Maybe you are driving through the area and just want to stop by without the need to browse through our inventory. We make curbside delivery a simple and easy process that ensures you receive your order in a jiffy.
Canna Culture News
Stay updated on the latest cannabis news and trends by following our blog. We strive to communicate with our clients and provide them recent research or other developments related to the weed industry.
Join the Canna Culture Community
You can also keep updated on specials and events by following our Instagram feed.
VIP Rewards Program
Our VIP Rewards Program offers a 2% monetary return on every dollar spent before taxes. If you are a regular at Canna Culture, joining our VIP Rewards program is a smart choice and you'll see benefits accrue over the course of the year. When you bring family and friends, they'll receive a pre-roll for just $2. VIP members are also the first to receive news of our events, BOGO days, and specials.
How Much Does Weed Delivery Cost in San Jose?
We offer free delivery in San Jose as long as long as you meet the purchase minimums (see map above) for your location.
FAQ
Is weed delivery legal in San Jose?
Yes. California law allows weed delivery. However, to be compliant, there are still some rules you must follow. You can't smoke in public spaces, including parking lots. You cannot travel with weed, even sealed, on the front seat of your car. It must be stored in the trunk. 
Will my neighbors or colleagues know I'm getting weed delivered?
No. Our drivers are discreet and drive unbranded cars.
Can you deliver to my workplace?
We have no problem delivering to your work. Please make sure to follow any protocols from your place of employment.
Can my friend pick up my order?
Also, no. California law only allows delivery to the person placing the order with a valid ID or driver's license.
What's the Most Weed I Can Order for Delivery?
For recreational clients, the maximum for non-concentrated flower is 28.5 grams (1 ounce). For concentrates, the daily maximum is 8 grams.
References
Childs, E., Lutz, J. A., & Wit, H. D. (2017). Dose-related effects of delta-9-THC on emotional responses to acute psychosocial stress. Drug and Alcohol Dependence, 177, 136-144. doi:10.1016/j.drugalcdep.2017.03.030
Blessing, E. M., Steenkamp, M. M., Manzanares, J., & Marmar, C. R. (2015). Cannabidiol as a Potential Treatment for Anxiety Disorders. Neurotherapeutics, 12(4), 825–836. doi: 10.1007/s13311-015-0387-1
National Academies of Sciences, Engineering, and Medicine; Health and Medicine Division; Board on Population Health and Public Health Practice. (2017). Committee on the Health Effects of Marijuana: An Evidence Review and Research Agenda. The Health Effects of Cannabis and Cannabinoids: The Current State of Evidence and Recommendations for Research. Washington (DC): National Academies Press (US); 2017 Jan 12. 4, Therapeutic Effects of Cannabis and Cannabinoids. Available from: https://www.ncbi.nlm.nih.gov/books/NBK425767/