Founded in Portland, Oregon, Select is a cannabis company that first set out to perfect the vaping experience by only using the highest quality oils for their products. Every veteran cannabis vaper has taken a pull off a cartridge that leaves them in a coughing exorcism. That's the experience the founders of Select set out to expel from the vaping experience. And to say they've succeeded – well, that would be an understatement. With all the awards and accolades still piling up, Select has quickly solidified themselves as a titan in the vaping market. Now, the company has courageously voyaged past vapes to a vast array of products that include drink infusers, gummies, and live resin. To find the perfect Select product for you, come on down to CannaCulture and let one of our expert Budtenders assist you with any questions you may have regarding Select or any of our other first-class products in San Jose, California. If you can't make it into our showroom don't worry; we deliver too! Call us at (408) 264-7877 or check out our menu to see what we have in store for you!
Pure Oil
With this idea to revolutionize cannabis vapes, Select founders worked tirelessly to concoct and tweak their oils to hit smoother, taste better, and contain strains familiar to any connoisseur.
Their process begins by sourcing their cannabis from trusted, reliable farmers. This approach brings integrity and transparency paired with a promise to never add harmful cutting agents such as vegetable glycerine, propylene glycol, or Vitamin E Acetate. By not using these in their cartridges, our clients can trust that every pull off a Select product is the purest oil possible. Next, each cartridge is hand-filled to guarantee quality. Then, a cartridge goes through four quality control stations to ensure full flavor and smooth pulls every time. This quality control protocol carries through the entire inception of their products and is often more stringent than state compliance requirements.
Vapes
Select Essentials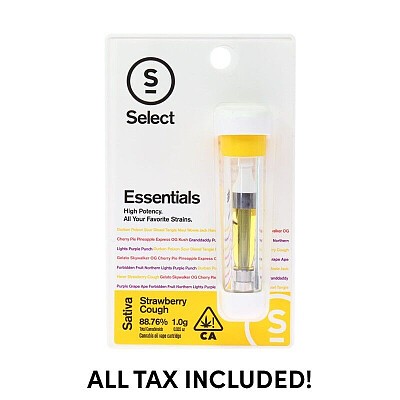 Designed to include all your favorite strains, Select Essentials works to provide customers with a high THC potency distillate oil in a 1g cartridge. This cartridge averages 150-300 puffs and is optimized to be a longer-lasting cartridge. THC potency in these ranges from 80-95%. This consistent flavor and high comes in:
Green Crack: perfect for fighting fatigue, depression, and stress, this sativa strain earns its name by giving consumers an invigorating mental buzz that propels them through their day with a positive and clear attitude.
Grape Ape: this indica is perfect to help you unwind after a long day of adventures. Its sweet grape flavor profile carries away any stresses or burdens from your day and lulls you into a blissful, relaxed state.
Clementine: this sativa strain is a cross between Tangie and Lemon Skunk. It's sweet taste and citrus smell is ideal for the day time pick-me-up for when you need a lift to your spirits and genuine smile in your day.
Select Fresh & Go
Created with bold flavors to attract customers who are averse to the unflavored norm in the vaping experience, Select Fresh contains the same premium distillate oil in a .3g cartridge. Paired with the Go battery, this can be the perfect pocketable vaporizer. Strains for this include:
Forbidden Fruit: this indica is the delicate cross between Cherry Pie and Tangie. Its citrus and grapefruit notes are backed by a euphoric, relaxing body high that rids the body of pain and replaces it with a deep physical relaxation.
Pineapple Express: this sativa dominant hybrid produces long-lasting energetic effects that make you feel alert, buzzy, and creative. With the bright citrus flavor profile, this strain is known to combat symptoms of depression, pain, and fatigue.
Strawberry Cough: this sativa strain will have you smelling strawberries and feeling uplifting effects with an aura of euphoria.
Select Elite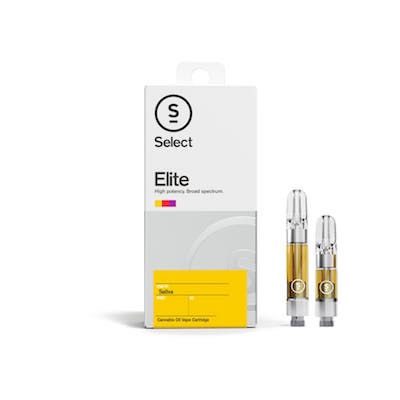 Available in 0.5g or 1g, this high potency vape is the best selling of its kind on the market. Its broad spectrum oil contains the highest THC levels possible; it also packs a solid flavor profile. Some strains that Select Elite come in are:
Durban Poison: the quintessential "Wake 'n Bake" sativa is perfect to get you through just about any busy day.
OG Kush: this classic hybrid strain is perfect for those looking for a happy, relaxed high that fluctuates from with head and body effects.
Pineapple Diesel: this energizing hybrid is great for daytime stress relief.
Select Elite Live
If you take the high quality oil you have come to expect from Select and infuse live resin terpenes, then you get their latest edition to their vape catalogue: Select Elite Live. The combination between the distillate oil and the terpenes enhance the effects of the sativas and indicas making them more energizing and more sleepy, respectively. Some strains in this are:
Jillybean: this energizing hybrid strain promotes creativity with euphoric, uplifting effects with notes of orange and mango.
Sensi Star: this indica will release a body high from head to toe and is perfect to relieve insomnia, stress, and restlessness.
Lemon Kush: this hybrid is adept at bringing you a sour, lemony taste with an uplifting, creative high that is perfect for just about any occasion.
Edibles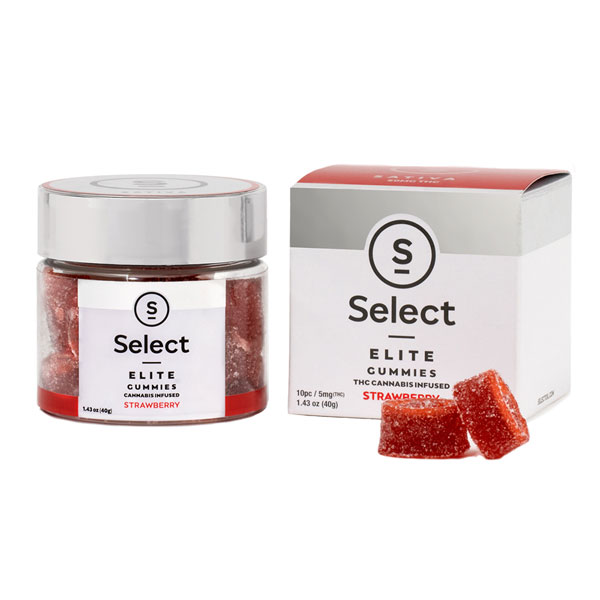 Since edible cannabis is ingested and absorbed through our digestive tract, this causes the duration of the effects of the cannabinoids to last longer than if the cannabis was vaped or smoked.[1] However, Select has gotten creative with how they approach the edible market. 
Select Elite Gummies
Select offers their Elite Gummies in 5mg or 10mg of THC so any level of cannabis consumer can enjoy their incredible benefits. These broad spectrum oil gummies come in sugar coated flavors:
Tropical Paradise
Berry Buzz
Sweet Spice
Select Nano Gummies
When Select created Nano Gummies, they did so because they wanted to refine the edible experience. Cannabinoids are extremely fat soluble so for regular edibles they require fat to latch on to in order to be absorbed into the body. This means the THC won't hit until a few hours after the edible is taken. With Select Nano Gummies, Select set out to change that. Instead they made their edibles with water soluble cannabinoids. This means the Nano Gummies absorb much faster than traditional gummies. No longer do you have to wait around for your edibles to hit. With Select Nano Gummies you can pop one in and feel a similar onset to smoking or vaping your THC. Flavors for Select Nano include: 
Select Ratio Drops
Every wellness routine could use a little CBD paired with THC. With Select's brand of THC and CBD drops you can finally achieve the accurate dose for whatever experience you're trying to partake in. Whether it be for the euphoria, the pain-relief, or the pure CBD healing properties, Select's Ratio Drops are the perfect addition to your daily health and wellness routine. They come in:
100% THC
1:1 CBD:THC
4:1 CBD:THC
18:1 CBD:THC
Select Squeeze
Select's beverage enhancer comes with the perfect dose of 5mg. It is the perfect addition to any summertime drink, tea, or smoothie. In as little as 15 minutes you can begin to feel the euphoric effects of this incredible THC blend. Available in 4 delectable flavors:
Lemon Lime
Watermelon
Strawberry Lemonade
Hint of Sweet
CBD Products
Cannabidiol (CBD) , the non-psychoactive sibling to THC, has long been the subject of many medical papers that aim to explore its medicinal use and applications. What has been uncovered is that this chemical has shown promise in treating acute anxiety,[2] inflammation,[3] nausea,[4] and many more. Select's CBD products include:
Select CBD Drops: coming in four flavors – unflavored, lavender, peppermint, and lemon ginger, these drops are perfect at giving you a relaxed focus that can lift pain right off your body.
Select CBD Blends: coming in Revive, Focus, and Relax, these disposable vapes are blended with premier CBD and essential oils to give you a balance of effects.
Select CBD Rub: combined with the soothing blend of aloe, vitamin E, tea tree oil, menthol, and CBD, this topical works to ease muscle tension and soreness as well as body aches that may exist deeper in the tissue.
Stop By in Los Gatos
To get all things Select, stop by CannaCulture! And if you aren't able to come in, don't worry! We can deliver right to your front door. Here at CannaCulture we are proud to offer Select, because we pride ourselves on giving our clients only the best in the cannabis industry; and Select is just that. If you aren't a VIP you're missing out on: 
2% back for every dollar spent before tax
Bring friends and family and a get a pre-roll for less than $2
Be the first to get notified about our demo days with BOGOs
If you're interested in learning more about the culture here at CannaCulture give us a call at (408) 264-7877 or stop by our Los Gatos location. 
References
Barrus, D. G., Capogrossi, K. L., Cates, S. C., Gourdet, C. K., Peiper, N. C., Novak, S. P., Lefever, T. W., & Wiley, J. L. (2016). Tasty THC: Promises and Challenges of Cannabis Edibles. Methods report (RTI Press), 2016, 10.3768/rtipress.2016.op.0035.1611.
Blessing, E. M., Steenkamp, M. M., Manzanares, J., & Marmar, C. R. (2015). Cannabidiol as a Potential Treatment for Anxiety Disorders. Neurotherapeutics, 12(4), 825–836. https://doi.org/10.1007/s13311-015-0387-1
Malfait, A. M., Gallily, R., Sumariwalla, P. F., Malik, A. S., Andreakos, E., Mechoulam, R., & Feldmann, M. (2000). The nonpsychoactive cannabis constituent cannabidiol is an oral anti-arthritic therapeutic in murine collagen-induced arthritis. Proceedings of the National Academy of Sciences, 97(17), 9561–9566. https://doi.org/10.1073/pnas.160105897
Mechoulam, R., Parker, L. A., & Gallily, R. (2002). Cannabidiol: An Overview of Some Pharmacological Aspects. The Journal of Clinical Pharmacology, 42(S1), 11S19S. https://doi.org/10.1002/j.1552-4604.2002.tb05998.x