Heavy Hitters is one of the original California cannabis companies and is famous for their high-quality vapes. But, that's not all they do. They also make a line of gummies, live resin, and concentrates. It's all only available in the state of California. This company is dedicated to quality and purity, so they're passionate about their process. In short, they're not messing around.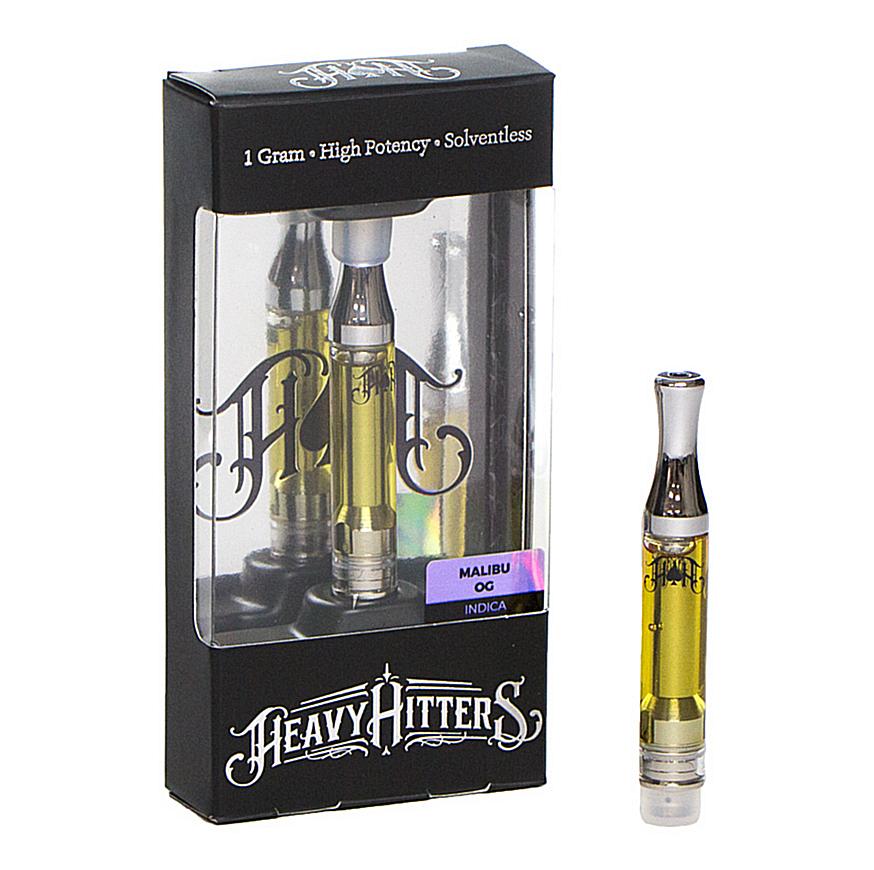 Their packaging gets to the point, with a logo that falls somewhere between Jack Daniels and biker-chic. But don't let their edge fool you. Heavy Hitter products exceed California's safety standards (while still packing a punch).
Canna Culture Collective is always happy to rep a California original, and Heavy Hitters is a brand that's earned its legacy. We've been doing the same since 2011. Stop in and learn more about the cannabis brands we love. We're open 7 days a week, from 9 am to 9 pm. We're right near the Capital Drive-In Theaters in San Jose, CA with easy accessibility – no matter how you roll. Make sure you keep an eye on our specials page to take advantage of some very exciting offers.
Don't feel like leaving the house? Our budtenders totally understand. Get your Heavy Hitter selections delivered with minimal effort. We'll see you next time.
Potent and Pure
Regardless of the kind of cannabis product your get from Heavy Hitters, you can be assured that you'll be getting premium product because at the end of the day (or at the beginning), it all comes down to quality flower. Heavy Hitters works closely with their farmers to ensure that all of their products start with the very best.
Cartridges
Heavy Hitters is best known for its cold-filtered high-potency vape cartridges. It's what inside that counts, and what's inside these is over 95% THC, no fillers, no solvents, and no cutting agents. They're formulated to have over 90% concentrate in each cartridge.
If you're new to Heavy Hitters, it's about time you treated yourself! Canna Culture Collective is stoked to stock Indica, Sativa, and Hybrid in strains like Lava Cake and Durban Poison. Each cartridge holds a gram of vaping pleasure. Because it's so pure, you'll find that these cartridges really last. They're compatible with a 510 thread battery for ultimate convenience.
Go Live
Heavy Hitter's line of Live Resin products is a prime example of their commitment to process and product. Heavy Hitters flash-freezes the whole plant, so every aspect is preserved. It's all about preserving as many cannabinoids and terpenes as possible, which is why they use subzero temperatures when extracting these components from the plants to form their resin. This resin is the ultimate formula with a full spectrum of terpenes. That means optimal taste, fragrance, and sensation. (1) Yum. You can enjoy Heavy Hitter's Live Resin via vape cartridge or dab.
Concentrates
Live Resin comes in full-spectrum concentrates. Sauce, Sugar, or Badder? It's up to you. They're all loaded with eye-popping THC crystals. Canna Culture has a Heavy Hitters Sativa Sauce in Jack Flash. We also carry their Indica Badders in strains like Ice Cream Cake and Sherbert Frosting. Fire up your rig and look forward to the clean, flavorful experience that Heavy Hitters is famous for.
Yabba dab – a do.
Gummies
Sometimes, you need a gummy in your tummy. Heavy Hitter's line of gummies are gluten, dairy, and nut-free, and pack a whopping 20mg of THC per gummy. But something else to love about these is that they're scored down the middle, so you can conveniently customize a portion that will suit your mood. Moon Drop Grape or Tangerine Dream? That's the only tricky part.
A Safer Vape
The state of California requires that all cannabis products undergo specific testing protocols by licensed laboratories. (2) While some pretty nasty things can show up in unregulated flower, rigorously testing vape concentrates is especially important because of how they're produced. Heavy Hitters is proud that they consistently exceed these guidelines. Safety first, indeed.
In fact, you can look up the Certificate of Analysis for the Heavy Hitter product in your hands by entering the batch number from the package on their website.
Heavy Hitters cartridges do not contain:
Vitamin E
Propylene glycol
Vegetable Glycerin
MCT oil
Get it From Canna Culture
To learn more about everything cannabis, follow us on social. You can find the Canna Culture Collective on Twitter, Insta, and Facebook. Hit us up. We love hearing from our clients!
Imitation is not the highest form of flattery when it comes to vapes. A recent article in the LA Times documented how the California streets are flooded with black market vendors of counterfeit cartridges and vapes, which are packaged exactly the same as some of our favorite brands. Besides being illegal, there's no way of knowing what you're puffing. Don't take the risk. Unregulated distillation uses hazardous solvents. The concentrates in counterfeit cartridges can be cut with dangerous substances, many of which led to the vaping "epidemic" of recent years. In fact, it's estimated that over 2,700 people in the United States have been hospitalized after using questionable vaping products. (3) Nearly all in a recent survey used vaping products that contained Vitamin E, or Vitamin E acetate. This oily substance is used to thicken or dilute the concentrates in vape cartridges as a cheap way to stretch oils. (4) Heavy Hitters is committed to a pure product and its cartridges do not contain Vitamin E. They also are solvent-free. But, you have to make sure that you are using an authentic Heavy Hitters product. The only way to do that is to buy from a licensed California dispensary, like Canna Culture.
VIP in San Jose 
When you buy Heavy Hitter cannabis products at Canna Culture, you know that you're getting an authentic product. You're also supporting a California brand that's been raising the bar for responsibility and quality in the industry since 1996. Canna Culture Collective is dedicated to delivering only the very best cannabis products to our clients, and our budtenders make it a point to make everyone feel like a VIP. Speaking of which, if you're making frequent trips to our San Jose dispensary, why not join our VIP Reward Program? Enjoying our premium cannabis offerings is only the beginning! Sign up for regular discounts, special offers, and exclusive swag.
VIP Perks include:
News about buy-one-get-one-free events
A pre-rolled joint for under $2 when you bring friends
2% cashback on every dollar you spend before tax
It's a win-win.
The cannabis industry is moving fast these days, and there are always new products to discover.
To stay current on all things cannabis, keep an eye on our news page. #JoinTheCulture now! Canna Culture Collective is proud to be Silicon Valley's premier cannabis dispensary. So come on down (or get delivery) and enjoy some of Heavy Hitters' best.
FAQ
What's the difference between the Live Resin cartridge and the other Heavy Hitters cartridge?
Heavy Hitters flash-freezes the entire cannabis plant to preserve terpenes for a full-spectrum resin. Because all the desirable properties are captured from the freshly harvested plant, this resin has all the goodness of the live cannabis plant. Heavy Hitters Ultra cartridges contain a potent concentrate that is cold-filtered and distilled from high-quality dried flower.
Are Heavy Hitter gummies strong?
The great thing about gummies is that you can more or less dose yourself pretty accurately. Most gummies range from 5mg-10mg THC per piece. Heavy Hitters gummies are 20mg THC per gummy. But, if you need to go a little lighter (or a little heavier) they come pre-scored, so you can half or quarter them to suit your needs.
Wait, what's badder?
Also called batter and butter, badder is a cannabis concentrate with a thick consistency similar to a stiff cake batter. But don't lick the spoon. You can enjoy concentrate by dabbing in a specially outfitted water pipe heated with a mini propane torch. Or, if you're not ready to invest in the equipment but want to intensify your next joint or blunt, you can add a smear while rolling one up.  
How do I know my Heavy Hitters cartridge isn't counterfeit?
Heavy Hitters only distributes its products to licensed California dispensaries. Today's counterfeit vape products can have convincing packaging, and the cartridge may be identical to an authentic Heavy Hitters cartridge. So, if your cousin from Nebraska got his Heavy Hitters vape from the sister of a guy that his friend knows, politely decline. 
References